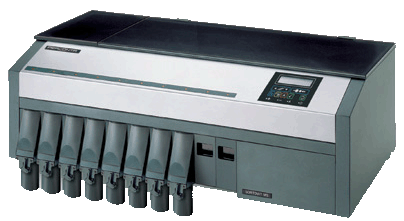 Scan Coin Sortovit
The SCAN COIN Sortovit coin sorter has been developed to speed up your coin processing without in any way sacrificing the highest level of accuracy. As standard it sorts up to 2,500 coins per minute in up to eight denominations, which can be increased to nine on request.
Accuracy in action
Apart from being a fast worker, the Sortovit is renowned for having the highest possible accuracy in counting, sorting and batching. It is also exceptionally accurate for off-sorting counterfeit, foreign and damaged coins.
SCAN COIN Quickrail®
Like any other SCAN COIN coin sorter, the Sortovit is equipped with SCAN COIN Quickrail® – a fast-change sorting track. It can be changed in next to no time and minimum maintenance is required.
Easy operation
The machine is easily operated from a clear and logical display – designed to perfectly suit the needs of the operator. It has a large coin tray with high capacity. An automatic coin feed and a cover reducing noise and dust are other examples of classic SCAN COIN ergonomics. The Sortovit is designed for desktop use. There is no need for space-consuming stands or special furniture. Just place it where it suits you best and from day one the Sortovit is a convenient working partner.
Flexible choices
The SCAN COIN Sortovit is recommended for volumes higher than 20,000 coins per day. If you do not need such a high capacity or you need a really heavy-duty coin sorter, please contact us and we will help you find a solution that suits your needs.
Technical specification Sortovit
| | |
| --- | --- |
| Width | 1,008 mm / 39.7" |
| Depth | |
| without outlets | 367 mm/14.4" |
| including outlets | 413 mm/16.3" |
| Height | 306 mm/12.0" |
| Weight | 57 kg/125.6 lbs |
| Voltage | 230 V/50 Hz, 115 V/60 Hz |
| Power consumption | approx. 200 VA |
| Speed | <2,500 coins/min. |
| Diameter range | 16.1-31.0 mm (standard) |
| Thickness range | 1.0-3.2 mm (standard) |
| | |