Similar Products
CDS-820
Brochure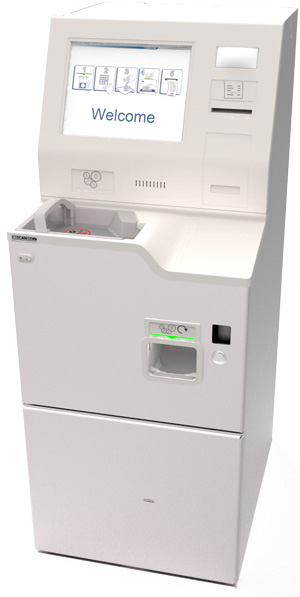 Scan Coin Model CDS9
The CDS9 offers complete cash handling service for coin and note transactions. In a secure and rapid way the machine handles bulk coin deposits as well as bundle note deposits and withdrawals. This will give the bank or transport company the optimal cash automation tool for servicing their customers or staff members.
A bank's optimal cash manager
CDS9 is the bank's premium self-service partner for complete automisation of coin deposit and note recycling, maximising the service for private as well as retail business customers. You get a secure and reliable solution with the latest technology in a modern design, combined with a mature software with optimised features. Stay on-line with full connectivity and take your business one level higher.
Save money through an efficient cash process.
The complete automisation of cash handling shows fast returns through increased efficency, staff savings and improved cash flows, that can easily be integrated into CIT routines.
Give your staff a more profitable role.
CDS9 releases the staff from manual cash handling, enabling them to focus on more profitable consulting-based services.
Offer your customers 24 hours service.
Self-service around-the-clock maximizes customer service by improving the accessibility of smooth and quick transactions.
Feel safe with proven technology.
Extreme reliability and durability is evolved out of the many years of experience.
Designed for maximum ease of use.
The interaction of the user and the machine is carefully thought through and user friendly, well suited for people with disabilities. The design is winner of the Red Dot award.
Create a modern bank lobby and strengthen the brand.
Customise the unit to your corporate brand and create a modern lobby in line with your graphic profile.
Stay connected.
Through the software BankingOne the machine can be connected on-line to any existing banking network, enabling a detailed and accurate reporting system for administration and management. Through the network the machine can also be monitored from any remote position.
On-screen interaction.
With most video and image formats supported, you can entertain and inform with your message targetted to the individual according to their account type when using online integration.