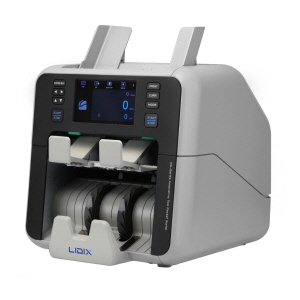 Lidix MLV-1 2-Pocket Denominational Currency Counter
Our fastest processing denominational currency counter does not run short on features, while meeting your desire for low cost. Holding the line on price, this exceptional machine sells for the same price as the previous model.
With simple to operate controls, the MLV-1 seamlessly fits into your way of working, allowing access to all "Modes" from a drop-down menu, making selection of a new mode, faster.
With exceptional acceptance rates, you won't spend your time dealing with rejects, but in the case of rejects, the secondary "Reject Pocket", insures that exceptions don't slow your work flow as it does with single-pocket machines.
The color display allows the display of all denominations on one screen during "Mixed Denomination" verification. The increased size of this new display allows more comprehensive results and status representation.
Only slightly larger than the previous model, the weight, speed, reliability and design would suggest a much higher price.
Features:
5 inch TFT LCD Display

Mixed Denomination Mode

Piece Counting Mode

Face and Orientation Mode

Multi-Function Counterfeit Detection (MG, IR, UV, HIS)

Interface - LAN Port, USB, RS232C

Software Upgradable - Online: Ethernet, Offline: SD Card or USB Stick or PC

Optional: Serial Number Recognition and Management, External Display, Thermal Printer
Specifications:
Operational Modes - Mixed, Single, Denominational Sort, Face, Orient and Piece Counting

Hopper Capacity - Up to 500 notes

Pockets - 2 (1 plus 1 reject)

Pocket Capacity - 200 notes

Reject Capacity - 100 notes

Currencies Detected - USD

Sorting Speeds - 1500 / 1200 notes per minute

Dimensions - 295mm [W] X 345mm [D] X 298mm [H]

Power Supply - 110 / 220 VAC, 50 / 60 Hz

Display - Full Color, LCD 5 inch with high quality resolution of WVGA

Connectivity - Interface with PC, Printer or External Display

Sensors - IR, UV, MG and HIS