Model 55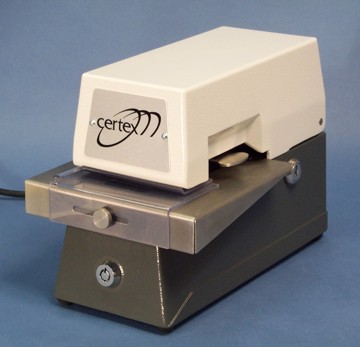 Dual locking system is the ultimate in control. One lock turns off the electronics when not in use. The other lock prevents access to the signature plate by unauthorized personnel.
The unique design lets you interchange the signature plates horizontally or vertically. The entire plate is removable for security when not in use.
Non-Resettable counter that records number of impressions for unit control.
FEATURES
The non-resettable counter records number of impressions made.
SIGNATURE OPTIONS
Single, double or triple signatures that can be used with a solid or three-color ribbon. The signature plates can be inserted horizontally or vertically. Just insert your check... and the switch is automatically tripped to imprint your signature.
DURABLE
The rugged, all-metal construction is designed to perform indefinitely. The signature plate is made of a Miraclon, an indestructible polymer.
MODEL 55 SPECIFICATIONS
Dimensions Height: 7.5" Width: 6.5"
Depth: 10.5" Weight: 14.8 lbs
Current Draw: 110VAC 0.5 Amps