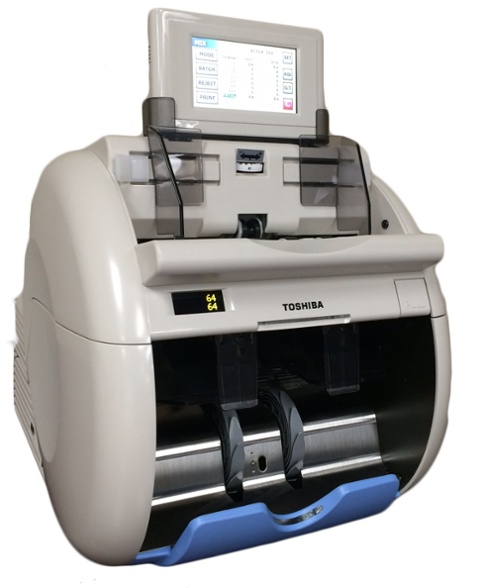 Toshiba IBS-210
The Toshiba IBS-210 Denominational Currency Counter/Sorter is one of the most innovative and reliable banknote counters utilizing image processing technology to both recognize and discriminate between bills. The IBS-210 has 7 operating modes and 4 counterfeit detection scans to satisfy all your currency counting needs.
The IBS-210 uses 2-pockets, a stacker and a reject pocket, allowing it to count and off-sort without stopping. Having a reject pocket allows operators to perform daily cash-processing jobs without any interruption. When counting, suspect or unrecognizable banknotes automatically divert to the reject pocket, assuring the operator continuous operation. The IBS-210 is easily opened for maintenance, and updates are done through the USB port. With its modern design, full color LCD Touch-Screen and user-friendly interface, the Toshiba IBS-210 provides every operator with a more comfortable and efficient working environment.
Features:
Counts and Identifies all US denominations
Counting Modes Include:
1) Mix: Counts mixed money, providing grand total and itemized count.
2) Single (Sorting): Counts 1 Denomination and sorts all other denominations into reject pocket.
3) Facing: Faces all bills (heads up or heads down)
4) Orientation: Orients all bills in proper direction (heads facing right or heads facing left)
5) New/Old: Sorts bills by generation: old notes to the bottom, new bills to the reject pocket
6) Verify: Confirm the value and quantity of the count
7) Piece: Count only the quantity of bills regardless of denomination
Full Counterfeit Detection: CIS, IR, MG, UV
4.3″ LCD Color Touch-Screen
User Friendly Menu Interface
Easy Upgrade via USB
Easy Jam Removal (2 openings from front and rear side)
Specifications:
Dimensions: 12.9W x 13.4D x 16.9H in (330 x 340 x 430 mm)
Weight: 37.5 lbs (17 kg)
Number of pockets: 2
Counting Speed: 600 note/min mixed, 750 note/min piece
Hopper Capacity: approx. 500 notes
Stacker Capacity: approx. 200 notes
Reject Capacity: approx. 100 notes
Sorting Note Size: Long side: 4.7 – 7.1 in (120-180 mm) Short side: 2.4 – 3.15 in (60-80 mm)
Display: 4.3" Color Graphic Touch LCD
Control Panel: Size: 6.2W x 1.2D x 3.7H in (160 x 30 x 95 mm)
Weight: .8 lbs (350 g)
Usage Temperature: 50 – 95 F (10 – 35 C)
Storage Temperature: -22 – 185 F (-30 – 85 C)
Number of CIS Sensor: 1 x CIS
Tape Detection: None
Counterfeit Detection: CIS / IR / MG / UV
Interface: Printer, PC Interface, optional cutomer display/pole display
Power source: AC 100-240V, 50/60 Hz, 1.5-0.7A